Zoom Chat: Dyslexia Legislation, an overview and update on the package of bills related to literacy education in Michigan
October 27, 2021 @ 12:00 pm

-

1:00 pm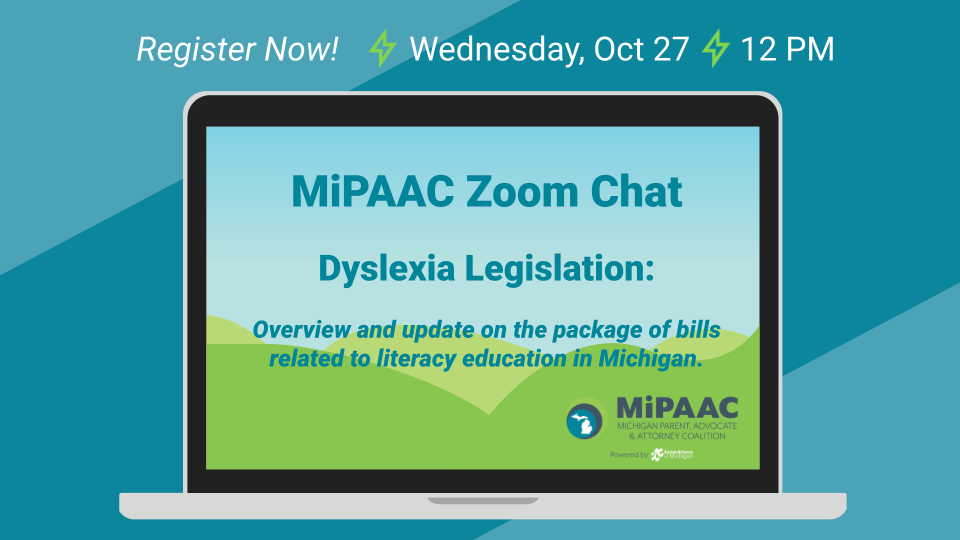 Please join MiPAAC and our panel of experts for a lunchtime Zoom Chat on Wednesday, October 27 at Noon!
We will provide an overview of the current package of bills referred to as the 'Michigan Dyslexia legislation' and explain how the legislative process works.
There will be an opportunity to ask questions as well. 
Who should attend?
Parents, caregivers, educators and other professionals — anyone with an interest in the literacy outcomes for all students in Michigan!
Panelists
Susan Schmidt: Teacher – Learning Disabilities, Dyslexia K-Adult; Former Chief of Staff, Michigan House of Representatives; lead on dyslexia legislation drafting taskforce
Dr. David Winters: Professor, EMU; Fellow/ Orton-Gillingham Academy; Structured Literacy Dyslexia Specialist/Center for Effective Reading Instruction (CERI), assisted with drafting the legislation
Stephen Keskes: Asst. Superintendent, Okemos Schools; Former Asst. Superintendent, Clio Schools (led OG training in district)
Dr. Nikolai Vitti: Superintendent, Detroit Public Schools Community District
Anri Haglund: 7th grade student
Heather Eckner: (Facilitator) Statewide Director of Education & Outreach for the Autism Alliance of Michigan
Please register and share this event with others!
The Michigan Parent, Advocate & Attorney Coalition (MiPAAC) powered by the Autism Alliance of Michigan is a newly formed statewide group focused on student-centered advocacy.
MiPAAC aims to educate families of children with special education needs on specific topics relevant to their advocacy efforts.